Discover Florida Magazine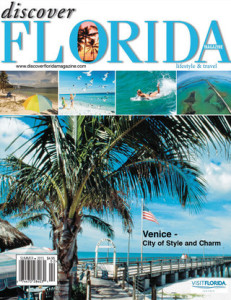 The Discover Florida Magazine is published and produced by the Florida International Chamber of Commerce, a Not-For-Profit 501c (6) Chamber of Commerce. The Chamber's mission is to establish,
engage, and promote international commerce & tourism between Europe and Florida, which will produce positive results for the Florida & International business community.
The Discover Florida Magazine is a four color magazine that promotes the Nine regions of Florida and all benefits these areas offer from a business and pleasure perspective. This publication is an extremely good source of information for anyone who would like to know more about the many different areas of Florida.
Subscriptions are available by contacting the Florida International Chamber of Commerce at (941) 926-9234 or by email at peterh@ficoc.org
Advertising is also available for any Florida businesses who would like to promote their products or services to International and National markets of visitors. With its remarkably affordable advertising rates, combined with our proven distribution system, The Discover Florida Magazine offers our advertisers an extremely cost effective medium through which to promote themselves to this lucrative European Market. For advertising please contact the FICOC office at (941) 926-9234